Paul George #13 of the Indiana Pacers. (Photo by Andy Lyons/Getty Images)
The NBA trade deadline is less than 24 hours away, and this one already has been a little crazy. DeMarcus Cousins is a Pelican, Lou Williams joined the Rockets, and the Nets somehow found a first-round pick. But what comes next? Here's a look at the potential trade candidates being discussed and how likely they are to be dealt.
All likelihoods are on a 1-5 scale with "1" meaning "not happening, forget about it," and "5" being "that dude might as well get his luggage out."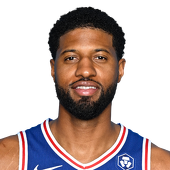 Paul George
SF / Indiana Pacers
PPG:
22.3
RPG:
6.2
PER:
18.6
Here's the basic conversation when you ask people around the league if Larry Bird will deal Paul George.
Comments